We offer a comfortable, price friendly accommodation in 4 double bedrooms (with the possibility of adding an extra bed), family bedrooms with and in the apartments.
All the rooms have private washrooms, mini refrigerator, LCD-TV with the satellite, wi-fi connection, the family apartments also have the kitchenette. All the rooms are cozy, tastefully furnished, their pleasant atmosphere is accompanied by a nice view of a large, tidy back yard. The doors are operated by a secure card system.
After a prior consultation, you can also bring your family pet for a small fee. Off course all the linen and towels are also provided for you. At the reception, you can borrow the hair dryer, flat hair iron, clothes iron or electric kettle, all free of charge. You can also rent a bathrobe.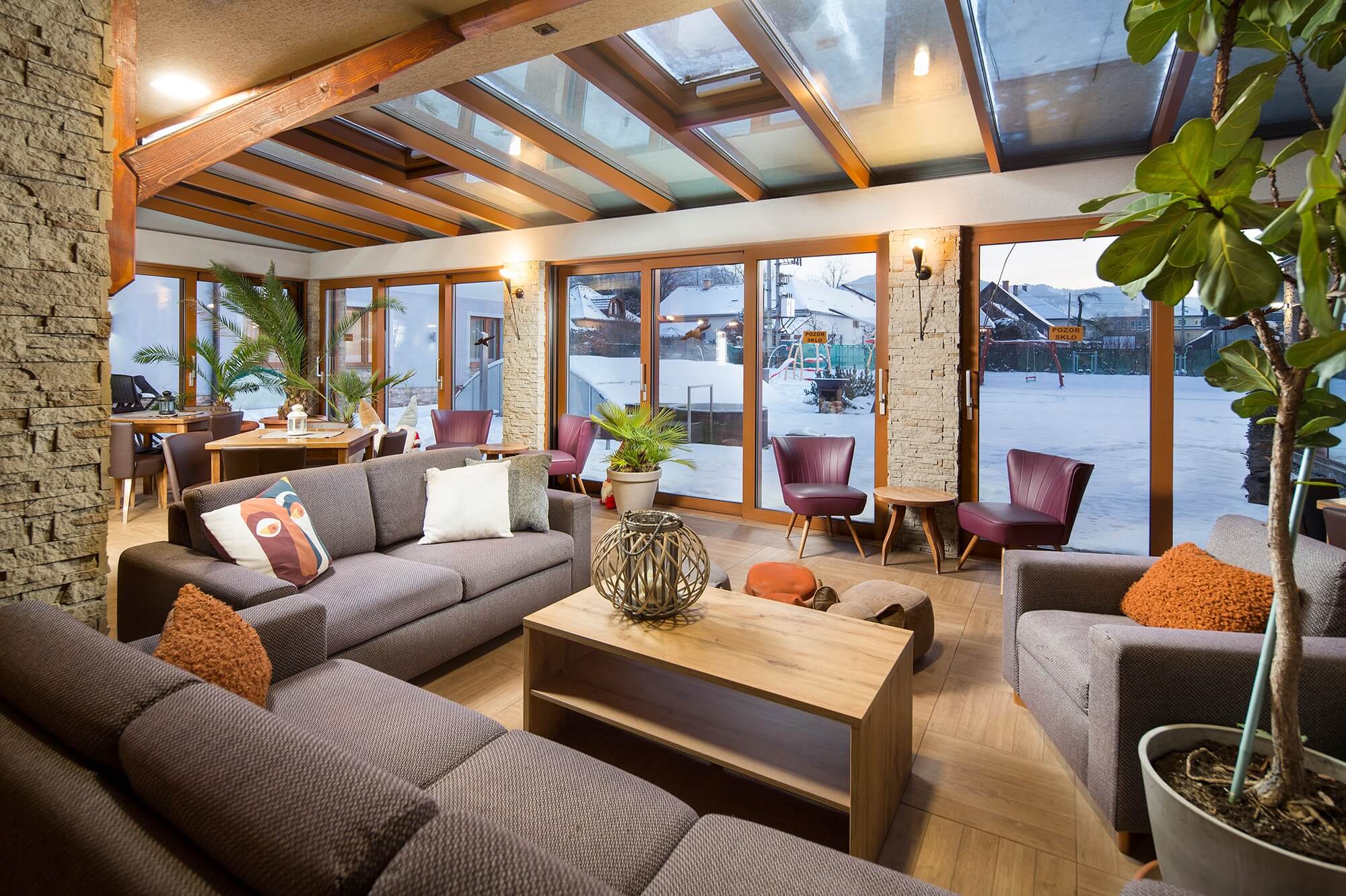 The total capacity of the accommodation in the main building is 36 regular beds and 15 extra beds. The capacity of apartment houses is 11 regular beds and 7 extra beds.
All the rooms are non-smoking. There are outdoor places available for those who wish to smoke
2-bedded room standard / 2 rooms



check-in: 14:00
check-out: 10:00
double bed
fridge
electric kettle
LCD-TV
internet connection
view of the garden with swimming pool
2-bedded room with extra bed / 2 rooms


bedroom / bathroom / loft

check-in: 14:00
check-out: 10:00
double bed
extra bed available
fridge
electric kettle
LCD-TV
internet connection
balcony windows
view of the garden with swimming pool


2 bedrooms / living room / bathroom / 2 toilets

check-in: 14:00
check-out: 10:00
double bed – sofa 140 cm
fridge
electric kettle
LCD-TV
internet connection
balcony overlooking the Western Tatras



check-in: 14:00
check-out: 10:00
double bed – sofa 160 cm
fridge
electric kettle
LCD-TV
internet connection
exit to the terrace above the pool


bedroom / bathroom with bathtub / kitchen

check-in: 14:00
check-out: 10:00
double bed – sofa 160 cm
fridge
electric kettle
LCD-TV
internet connection
outside terrace with sitting
Standard apartment without kitchen on the ground floor


bedroom / living room / bathroom

check-in: 14:00
check-out: 10:00
double bed in the bedroom
fixed bed + 2 x sofa beds in the living room
fridge
electric kettle
LCD-TV
internet connection
outside terrace with sitting
Family attic apartment with kitchen


bedroom / living room / kitchen

check-in: 14:00
check-out: 10:00
family apartment with transition living room
double bed in the bedroom
2 x sofa beds and kitchen in the living room
fridge
electric kettle
LCD-TV
internet connection
Family apartment with kitchen and private terrace


bedroom / living room / kitchen

check-in: 14:00
check-out: 10:00
family apartment with transition living room
double bed in the bedroom – sofa bed 160 cm and kitchen in the living room
fridge
electric kettle
LCD-TV
internet connection
outside terrace with sitting


2 bedrooms / living room / bathroom / 2 toilets

check-in: 14:00
check-out: 10:00
family 2-storey apartment
in the first bedroom a double bed – fixed bed and sofa bed in the living room
upstairs open gallery with double bed and sofa bed
fridge
electric kettle
LCD-TV
internet connection
De-luxe apartment with 2 bedrooms


2 bedrooms / living room / bathroom with bathtub

check-in: 14:00
check-out: 10:00
apartment with 2 separate bedrooms on the ground floor
double bed in each bedroom – 3 x sofa beds and kitchen in the living room
fridge
electric kettle
LCD-TV
internet connection
outside terrace with sitting